T2513Z
MULTI-FUNCTIONAL CNC ROUTER
多功能视觉定位雕刻/裁切机
T-2513Z是MNT最新研发的集雕刻、裁切于一体的多功能视觉定位雕刻/裁切智能数控装备。该设备采用直列式钢结构工业床身结构和全铝龙门设计,床体经振动时效技术处理后,加工表面及安装孔位全部由高精度龙门铣床一次加工成型。设备配备了高速水冷模具主轴、高频电振动刀、CCD视觉定位系统和大吸力吸尘系统,采用高性能运动控制系统和MNT自主研发的专业雕刻/裁切CAM软件操作,具有操作简单方便、运行速度快、精度高、吸尘效果好的特点,广泛应用于广告标识雕刻及喷印裁切等行业的KT板、PVC板、亚克力、铝、铜、铝塑板、塑料、碳纤维复合材料、灯片、软膜、不干胶等材料的切割。
MNT CNC router model T2513Z is the latest developed engraving and cutting intelligent equipment, which integrates carving, cutting and multi-functional vision positioning . The equipment is designed with the structure of industrial steel machine bed and the aluminum gantry. The machine bed is treated by vibration aging technology, the processing surface and the installation holes of which are all processed by the precise gantry milling machine by once. The router is equipped with high-speed water-cooled spindle, ultra-frequency electric oscillating knife, CCD visual positioning system and vacuum cleaning system. With international high performance motion control system and MNT independent developed and professional CAM software for carving and cutting, the machine has advantages of simple and convenient operating, high speed, high precision and perfect effect of dust collection. It is widely applied in advertising and sign industry, printing and cutting industry and other industries. Its application materials is KT board, PVC board, acrylic sheet, MDF, aluminum, copper, aluminum composite panel, plastic, carbon fiber composite materials,PC sheet, soft film, vinyl, magnetic sticker and so on.
Main technical parameters
设备主要技术参数
Item
Parameter
Work area / 工作尺寸:
1300x2500mm
Repeat position accuracy/:
±0.05
Equipment power / 设备电器功率:
3.5kw
Moving axis qty. /运动控制轴数量:
5Axis
Total Spindle Power / 主轴功率:
2.2Kw(标配) 3.2/4.5Kw( 可选)
Servo motor qty. / 伺服电机数量:
5pcs
Vibration frequency of EOT / 高频电振动刀振频:
14000rpm
Capacity / 电压:
AC220V 50Hz
Vacuum pump power / 真空泵功率:
5.5Kw(标配) 7.5 kw (可选)
Overall dimension / 设备外形尺寸:
2300x3200x1750mm
Max processing speed / 空程最高运行速度
72m/min.
Weight/ 设备质量
1000Kg
MNT high speed cutting system
高速切割系统

T-2513Z is a machine integrating visual positioning, carving and cutting, which is with new mechanical design, precision processing and strict assembly, completely representing different from the traditional. Moving parts adopts screw, guide rail, grinding grade rack and pinion and ac servo motor of all imported. Control system adopts high speed motion control system and MNT independent developed high speed engraving software, with the help of which, there is no need to edit by third-party software before cutting. Built-in multiple cutting methods, it has features of quick speed, good stability and perfect performance. Its free running speed can reach 72 m/Min and the feeding speed is 8 ~ 15 m/Min. It not only provides users with satisfying experience, but also greatly improves the processing efficienc
T-2513Z是以全新的机械设计、精密的加工以及严密的装配所呈现出来的、完全有别于传统的视觉定位雕刻、裁切一体机。设备运动部分全部采用进口丝杠、导轨、研磨级齿轮齿条、进口交流伺服电机,控制系统采用高速运动控制系统和MNT自主研发的高速雕刻操作软件,切割前无需第三方软件编辑刀路,内置多种切割方式,设备具有运行速度快、稳定性好、切割光洁的特点,空程速度可达72m/Min.,加工进给速度8~15m/Min.,为您提供完全不一样的工作体验,大大提高了加工效率。
Small Vision Positioning System
小视觉定位功能

Small vision positioning system can locate and cut accurately by shooting the registering marks on workpieces with the hd CCD camera. It can achieve searching the registering marks fast, positioning precisely and controllable repeated positioning accuracy within 0.1mm, so as to meet the requirements of users for high-precision nest cutting.
小视觉定位系统通过高清CCD摄像头拍摄工件上的MARK点来精准定位切割,搜寻定位点速度快、定位精准、重复定位精度可控范围在0.1mm以内,满足用户高精度套切要求。
Automatic Spindle Calibration System
主轴自动对刀系统

It adopts contact tool calibration device and tool calibration method with unique tool calibration system of TPS. Users should set material thickness and then directly operate the machine carving milling cutting without manual tool calibration , which has been completed automatically by software. It is safe and fast.
采用接触式对刀仪对刀方式配合TPS独有的对刀系统,用户在设置材料厚度后,在软件中完成自动对刀操作后,就可以直接进行雕铣切割,无需人工对刀,安全快捷。
Srong adsorption for dust system
强力吸尘系统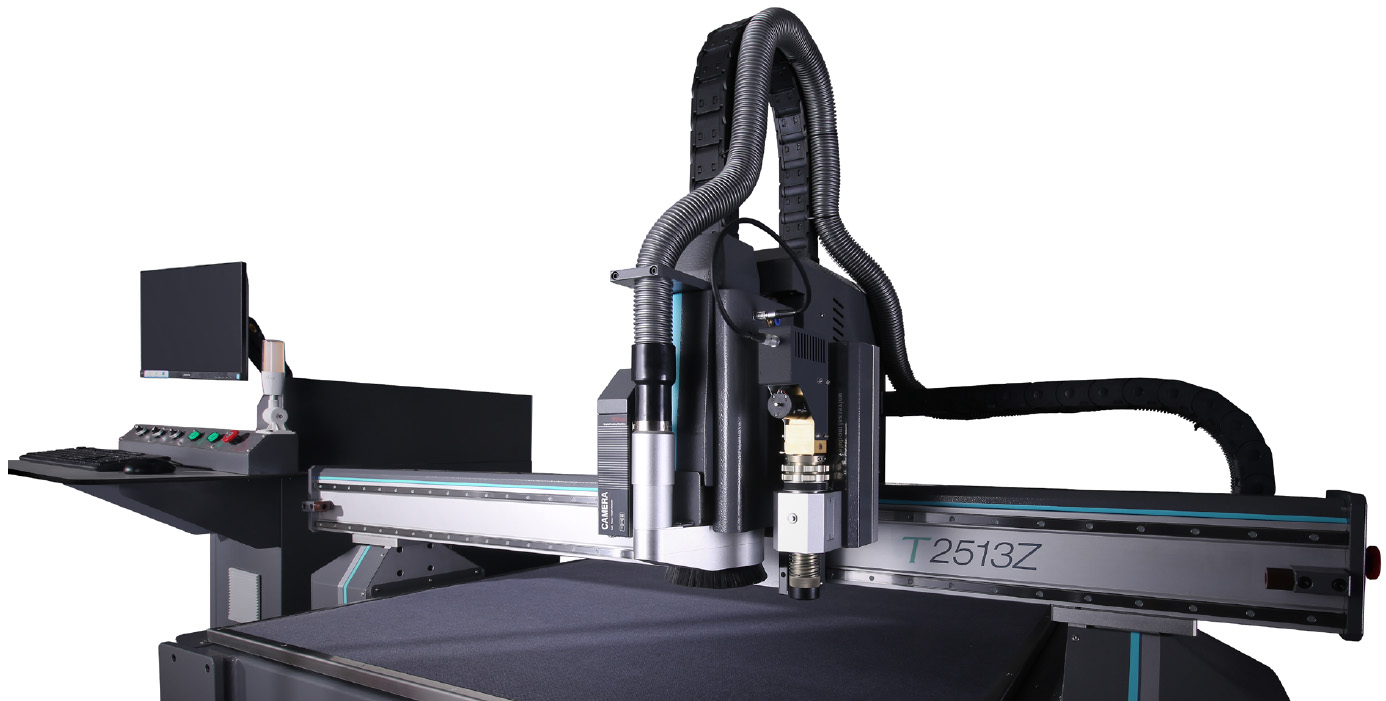 Due to unique design of vacuum cover and suction pipe, chips can be removed easily only by an ordinary vacuum cleaner with small power, which saves both space and energy.
独有的吸尘罩及吸尘管路设计,仅使用普通小功率吸尘器,就可以轻松地将切削屑沫吸干净,保持台面清洁,不仅占地面积小,而且更加节能。
Design of Strong Vacuum Adsorption Platform
强力真空吸附工作台面
Designed with brand new adsorption tabletop piping system, partition setting and honeycomb tabletop covered with imported felt, it has advantages of perfect flatness, good permeability and strong suction, which effectively prevents workpieces from moving in process of cutting.
全新的吸附台面管路和分区设置,使用表面覆盖进口毛毡的蜂巢式台面,台面平整度好、透风性好、吸力强劲,有效地防止工件在切割过程中的位移现象。
A wide variety of optional tool units as following
各种可选的切割工具单元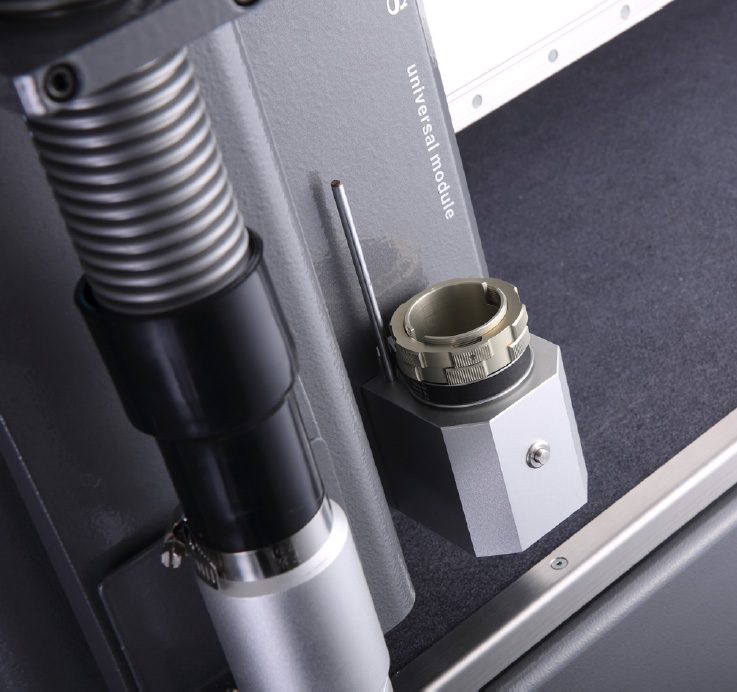 Ultra-frequency electric oscillating tool

高频电动振动刀

Ultra-frequency pneumatic oscillating tool

高频气动振动刀

Wheel cut tool

轮切刀工具









Non- oscillating tool

拖刀工具

Kiss-cut Tool

半切刀工具

Multi-angle V-Cut tool

多角度斜切刀工具

Creasing tool

压痕刀工具